In an earlier post, I mentioned how an auto accident left me with the inability to play guitar or piano, and sidetracked my songwriting. While that inability lasted for years, before I regained the ability to use fine motor skills required for fingerpicking and flat picking guitar, I regained much of the more gross motor ability of my right hand.  One of the things I took up to satisfy my need to be creative was guitar making.  Yup, why not. 
Convinced that at some option I would regain the ability to play, at least to some extent, I set about learning to build guitars on a learn-as-you-go-self-taught basis.  My first was an electric guitar, influenced greatly by the maple over mahogany bodied guitars like Gibson Les Paul and Pau Reed Smith guitars.  I wanted a guitar which would work well for blues and a bit of jazz, so that's what I set out to build.  I decided on a mahogany body with a book-matched maple "cap" for depth of tone and sustain. After a bit of machine work, I hand carved the body using gouges, hand planes, and card scrapers, hand carved the neck out of a piece of mahogany using draw knives and hand scrapers, forming it by using shaping cards i designed to create the exact neck shape that I wanted in every part of the neck, fitted it with a pair of Seymour Duncan JB pickups, and set and finished the frets. I have to say I was delighted with the end result.  You probably wont hear me playing this since I always perform with acoustic guitars.  But here it is.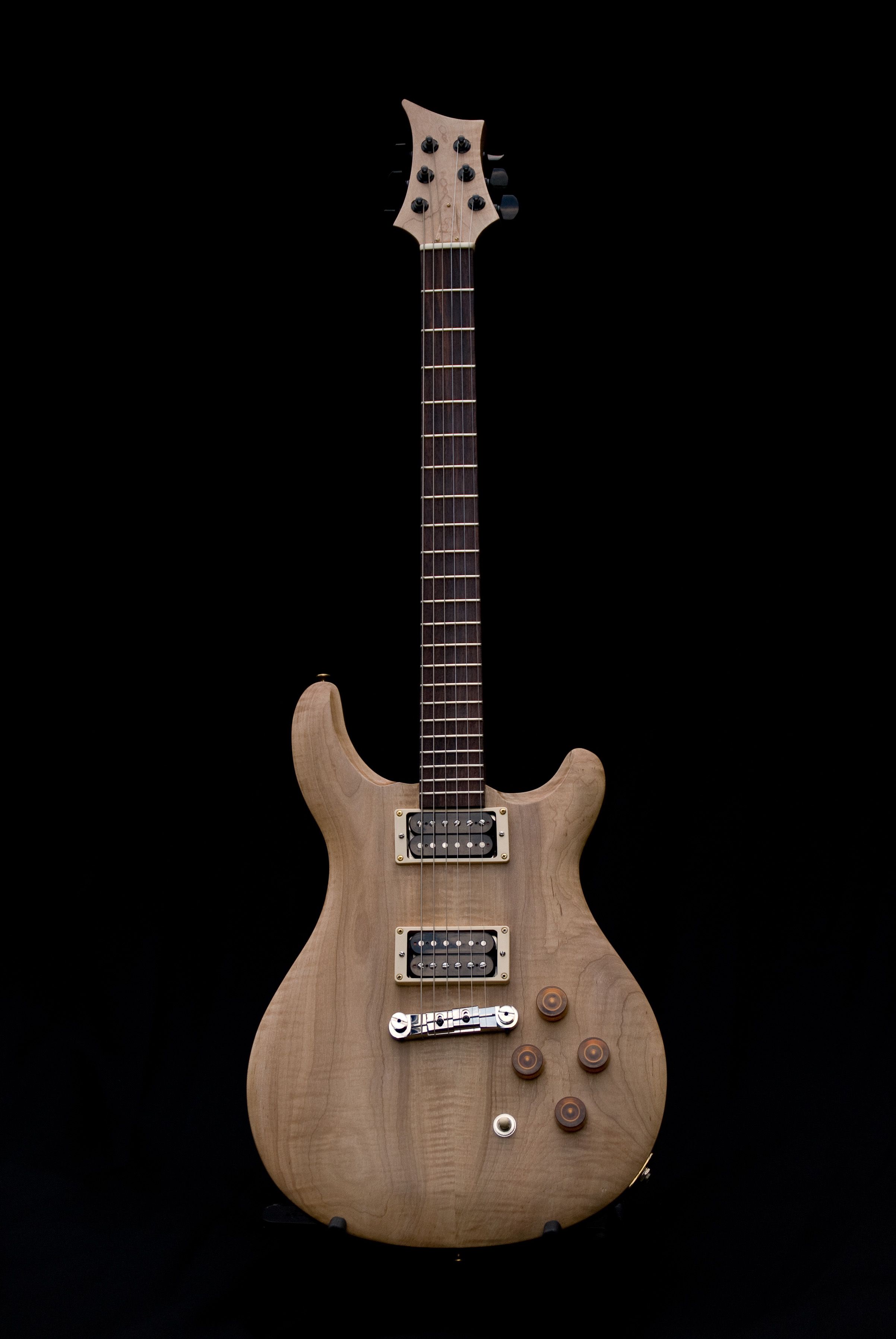 With the electric under my belt, I decided to build the "ultimate" acoustic guitar.  I took a workshop on guitar making for this one, since building an acoustic guitar from scratch (as opposed to assembling some sort of a "kit") is far more complex than building an electric guitar.  I decided to make one patterned after a Martin Dreadnaught, using salvaged Brazilliian Rosewood for the back and sides and a beautiful piece of book matched  Adirondack Spruce for the top.  I also decided that, while I was at it, I'd inlay it.  I bought the dovetailed neck and fretboard, but all else I made myself, from planing the back, sides and top to the right dimensions, carving the scalloped bracing, setting and finishing the frets, the doing all the inlay work, and finishing it with sprayed nitro.  I have let several accomplished guitarists play it and they have all remarked that it is one of, if not the, best playing and sounding guitars they have ever played. Here's a photograph of it, and there are more shots of it on my Photos page on this site.  I wont be bringing this out often, but if you do get a chance to be at a performance where I am using it, you are in for a real sonic treat.  It is what I think of as a "refined cannon"...Loud yet precise and delicate at the same time...I love this baby.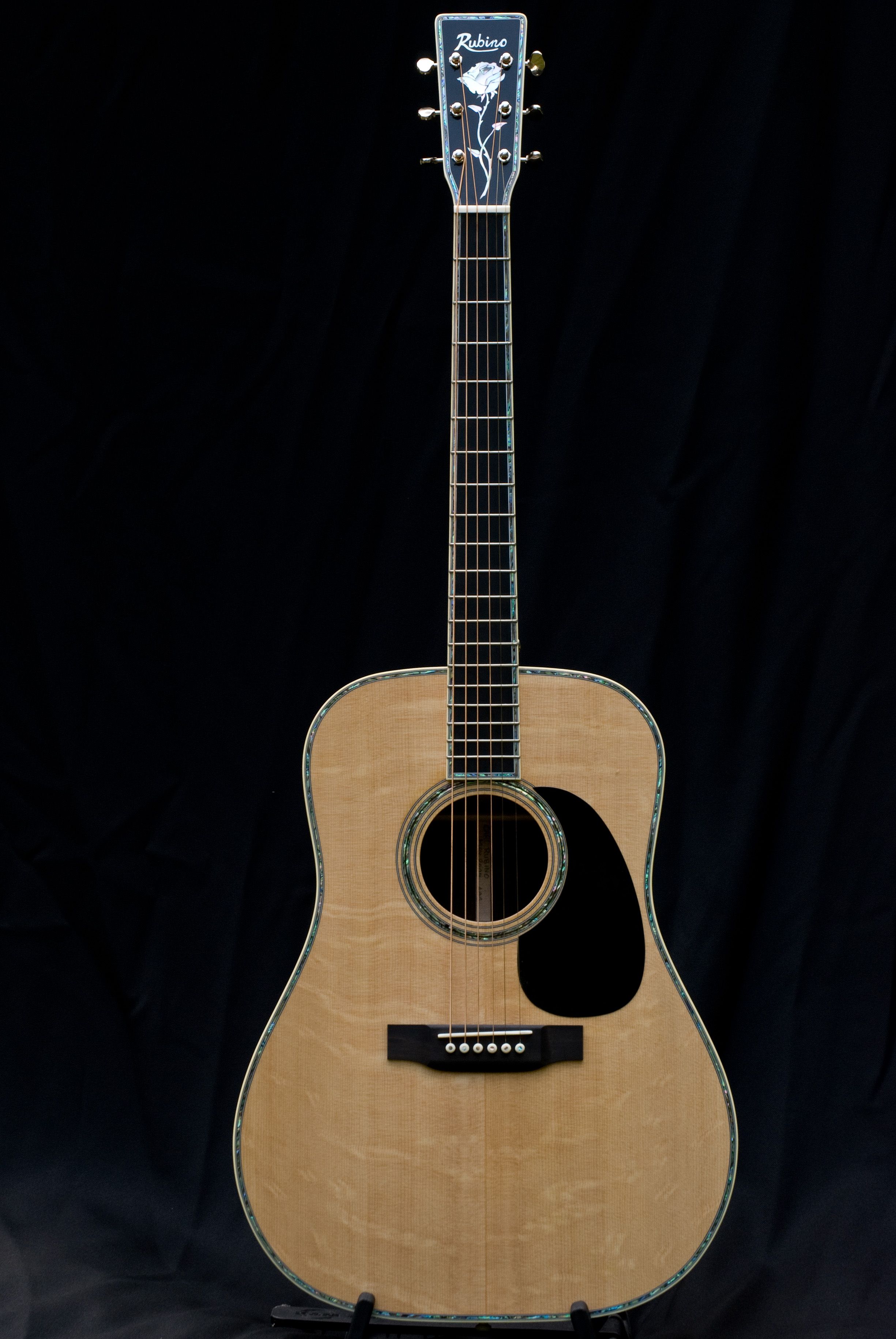 And, that ain't all.  I've got a whole lot more guitar making woods to work with down the road. I've got cherry, mahogany, walnut and maple for backs and sides for acoustics, more book matched Adirondack Spruce and some book matched Sitka Spruce for acoustic tops, and for electrics I've got mahogany, maple, basswood and a few other things for the bodies, along with mahogany and maple for necks.  In the works right now is a carved top jazz guitar, and a "tele" type guitar (or two).  I've got no space to work on them at the moment, but that will change. 
It's a great feeling to play a guitar that you made yourself that is just exactly what you want in a guitar...no compromises....
Stay tuned....Carl